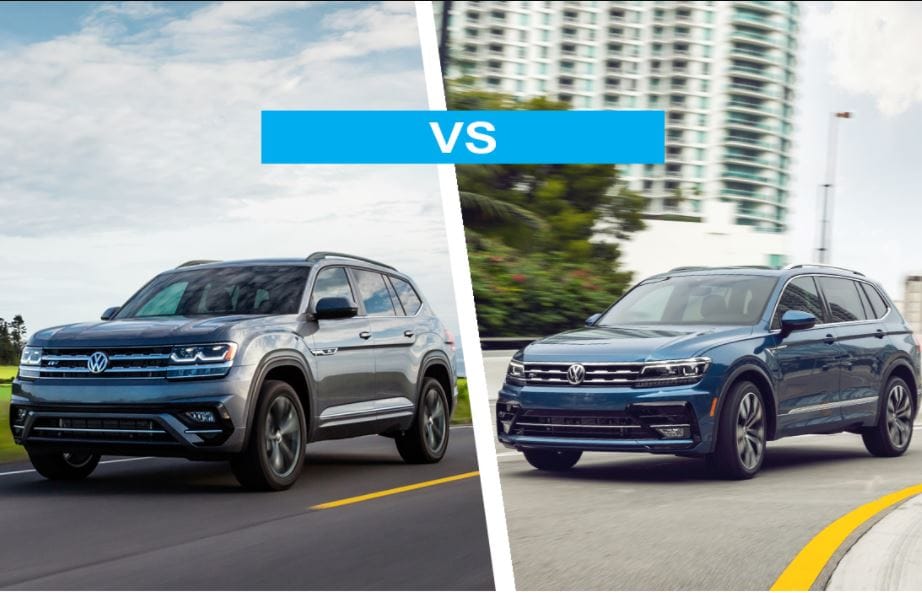 It's the most popular segment on the road today. You'd have to be living under a rock to see that everyone is driving them. What are we talking about? Why, a Sport Utility Vehicle, of course! But not just any SUVs. In this case, let's talk about two of the best, the new Volkswagen Atlas and the new Volkswagen Tiguan.
We've put together this comparison of two of the most popular vehicles on the road today, and will hopefully help you decide which is the right vehicle for you and your needs.
The Volkswagen Atlas: The new Atlas is the largest of the SUVs in the Volkswagen fleet. Introduced as a 2020 model, the Atlas was originally designed to do battle with the likes of the Toyota Highlander, Honda Pilot and Ford Explorer. It has become very popular completely on its own. It is a three-row SUV with seven seats. The new Atlas line also includes a smaller sibling, the somewhat sporty Atlas Cross Sport, for your consideration, too. It seats five.
The Volkswagen Tiguan: The new Tiguan is a compact crossover utility vehicle that was introduced by Volkswagen in 2007. Originally rather short in length, the new second-generation model introduced in 2018 is much longer and is standard with third-row seating on front-wheel-drive models, and optional on 4Motion-equipped all-wheel-drive vehicles.
>> Check Out Our Great Deals on Volkswagen Atlas and Volkswagen Tiguan in Sanford, FL <<
VW Atlas vs VW Tiguan Looks

 
The Volkswagen Atlas (Base MSRP of $32,565, including $1,020 destination) has been recently restyled with an updated grille and rear deck to keep pace with the rest of the segment. The rest of the new Atlas's exterior remains unchanged from last year, save for the extra three inches that the Atlas has grown after its facelift. Its new look and LED headlamps keep it in line with the looks of the recently released Atlas Cross Sport. The Atlas is built in Chattanooga, Tennessee.
The Volkswagen Tiguan (Base MSRP of $25,965, including $1,020 destination) features a conservative but stylishly-creased look that offers the appeal of driving a vehicle that is priced thousands more. SEL Premium models feature LED headlamps and taillights for a more sophisticated appearance. The new three-row Tiguan is built in Puebla, Mexico. The two-row version is built in Wolfsburg, Germany.
VW Atlas vs VW Tiguan Interior:

 
The Volkswagen Tiguan is available in two- or three-row configurations, depending upon your needs. One of the best vehicle designs on the road today, in almost every way, whether in quality of materials, how they were utilized and how they were designed, it is a vehicle that is well-suited for almost every need or trip you can imagine. We wonder if there is anything better out there.
The second-row seats recline and slide, offering varying degrees of legroom. They are designed to fold forward in a 40:20:40 split for maximum versatility. Buyers seeking 4Motion all-wheel-drive can take advantage of a third-row seat, but be warned: It is small and gobbles up quite a bit of rear cargo space when the seat is upright. By the way, cargo space behind the second-row is 37.6 cubic feet, which is more than found in a Ford Escape or other like-sized CUVs.
The new Tiguan's base price also includes a 6.5-inch touchscreen infotainment system and a wi-fi hotspot, plus Bluetooth connectivity and a rearview camera. Available options include active safety upgrades, panoramic sunroof, bird's eye parking camera, hands-free liftgate, a 12.3-inch display and a 480-watt Fender audio system.
Both vehicles come with Apple CarPlay and Android Auto, standard, as part of the company's Car-Net system
Volkswagen Atlas interior is larger than large. In fact, it is downright spacious! Designed as a family hauler, it is currently the largest in VW's US fleet. Oh, and it has 17 cupholders! That's a lot of Super Big Gulps. It is designed to seat seven passengers in normal 2-3-2 configuration. Outfitting it with the available captain's chairs will see that number drop to six passengers overall in a 2-2-2 seating arrangement.
In the way-back, there are 20.6 cubic feet of cargo space behind the third-row seating. That expands to almost 97 feet when both rows are folded forward. Other than the base S model, all trim levels are equipped with an 8-inch touchscreen display, Car-Net telematics and a built-in wi-fi hotspot.
>> Check Out Our Great Deals on Volkswagen Atlas and Volkswagen Tiguan in Sanford, FL <<

VW Atlas vs VW Tiguan Power:

 
The new Volkswagen Tiguan is powered by VW's award-winning 2.0-liter turbocharged four-cylinder engine producing 184 horsepower and 221 lb-ft of torque. EPA mileage checks in at 22 city /29 highway with the front-wheel-drive version, while the 4Motion-equipped all-wheel-drive model is capable of achieving 20 city / 27 highway. It is mated to an eight-speed automatic transmission and capable of towing up to 1,500 pounds. Its 7.9 inches of ground clearance makes it able to perform some mild off-roading when necessary. It performs admirably in both muddy and wet weather.
The new Volkswagen Atlas gives buyers a choice with two engines. First up is a similarly-sized 2.0-liter turbocharged four-cylinder engine making 235 horsepower and 258 lb-ft of torque. When tasked with motivating the larger Atlas, it gets an EPA fuel economy rating of 21 city / 24 highway in FWD form, while it drops down just a hair to 20 city / 24 highway when equipped with 4Motion all-wheel-drive.
It is also available with an option 3.6-liter naturally-aspirated (non-turbocharged) V6 engine that produces 276 horsepower and 266 lb-ft of torque. When equipped with this engine, the new Atlas can tow up to 5,000 pounds. It has 8.0 inches of ground clearance and an EPA fuel economy rating of 17 city / 23 highway with FWD and 16 city / 22 highway when equipped with Front- and all-wheel-drive, respectively.
Five Things to Think about When Buying an SUV or Crossover
Will it fit in my garage? That's a good question. But it requires some homework in advance. That's why it's a good idea to measure out the parking spot in your garage, using a tape measure to mark off the overall length, width and height of where you anticipate parking your vehicle. Find that information online by consulting the manufacturer's website. Advanced planning, and even seeking an alternative parking area will go a long way to avoid post-purchase disappointment.
Can it take me off-road? The new Tiguan boasts of 7.9 inches of ground clearance while the new Atlas clears an even 8.0 inches. Based on those near-matching figures, we would recommend your off-roading be limited to light excursions into the great beyond. And remember to bring a tow-line…just in case.

Will it Tow? If you intend to tow a boat, four-wheeler, jetski or whatever, consider how much it weighs, first. A pair of typical jet skis and trailer tips the scales at around 3,000 pounds. A small fishing boat, a motor and trailer can check in at up to 6,000 pounds. Weigh them first. If your load weighs more than the Atlas's 5,000 pounds, you might need to consider another vehicle.

Is it fast? Both the Tiguan and Atlas are heavy vehicles for their class. Base engines in these vehicles are based on VW's Turbocharged 2.0-liter four-cylinder. In the case of the Tiguan, it produces 184 horsepower. A slightly different version in the Atlas four-cylinder engine produces 235 horsepower. Finally, a 276 horsepower 3.6-liter V6 is bigger still and offers better acceleration, but with less fuel economy.
Is it safe? Only NHTSA and the Insurance Institute for Highway Safety (IIHS) can tell you for sure, but both have not been tested for the 2021 model year. Still, both VW Crossovers are well equipped with the latest safety technology, including Automatic Emergency Braking, which automatically applies the brakes to avoid or lessen the severity of a crash. There's also blind-spot monitoring assistance to warn you of a vehicle in your blind spot. On the new Atlas SEL, Lane Keeping Assist makes automatic steering corrections to keep you in your lane, while the new Tiguan's Overhead 360-degree View Monitor lets you see completely around the vehicle.
 2020 Volkswagen Atlas

 Specifications

 2020 Volkswagen Tiguan

 2.0-liter Turbo I-4 with 235 HP
258 lb-ft of torque
Or
3.6-liter V6 with 276 HP
266 lb-ft of torque
Engines

2.0-liter Turbo I-4 with 184 HP
221 lb-ft of torque
 
 FWD
4Motion AWD
Drive

FWD
4Motion AWD

 8-speed automatic transmission
Transmission

8-speed automatic transmission

 7-passenger
 Passenger Capacity

7-passenger

200.7 inches

 Total Length

185.1 inches

 117.3 inches
Wheelbase
109.8 inches

 78.4 inches w/ Mirrors
Width

72.4 inches w/ Mirrors

 70.0 inches
 Height
66.3 inches

 Up to 5,000 pounds
 Towing
Up to 1,500 pounds

Where to Get the Best Deal on Volkswagen Atlas and Volkswagen Tiguan in Sanford, FL
Napleton Vokswagen of Sanford is the place. Here's why. We are the only official Volkswagen dealer in the area. What that means is that we have the best finance and lease deals on new and certified pre-owned Volkswagen vehicles in Sanford, FL and the surrounding areas.

Napleton Volkswagen of Sanford is here to stay. The Volkswagen dealership is part of Ed Napleton Auto Group, founded in 1931. That means that we are here today but we will be also here for you three months down the road when it's time for your first oil change in Sanford. And we will also be here for you in 3 years when it's time to upgrade to the latest Volkswagen model. When you choose Napleton's Volkswagen of Sanford you choose peace of mind.     

>> Check Out Our Great Deals on Volkswagen Atlas and Volkswagen Tiguan in Sanford, FL <<

Make an Inquiry
* Indicates a required field