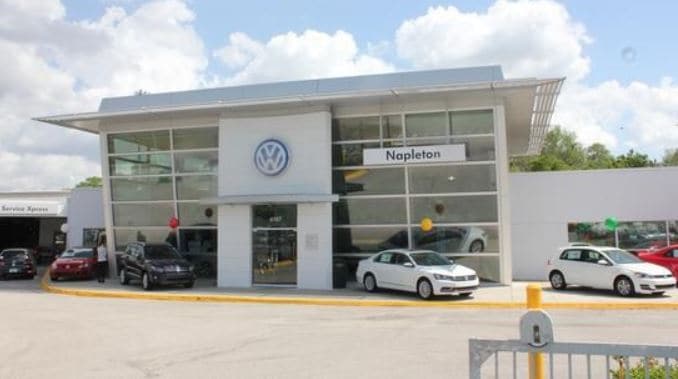 Best Used Cars Under $10000

Sanford, are you ready for the best used car deals. Napleton Volkswagen of Sanford FL is excited to announce its limited offer of used cars under $10,000. We understand you work hard for your money, and you want the best vehicle for it. So while getting a great deal on a used car, Napleton's Volkswagen of Sanford FL works hard to make sure you get a well-maintained, used car that you can rely on everywhere you go.

Each of our pre-owned vehicles must pass through a top to bottom inspection before being put on the lot. At the same time, we use our state of the art facilities and certified mechanics to test the endurance and capability of every used car on our car lot thus providing you with the longest-lasting cheap used cars on the market. For years Napleton Volkswagen of Sanford FL has helped thousands of people find the perfect pre-owned vehicles for themselves in Sanford, Orlando, Winter Park, Tampa, and surrounding areas in Central Florida. And, we are sure we can help you find the best used car for you, too.
>> Before it's to late, Check Out Our Lineup of Used Cars Under $10,000 <<
How Does Buying a Preowned Car Under $10000 Work?
To get the most car for your money in Sanford FL and the surrounding areas like Orlando, Winter Park, Lake Mary and Leesburg, FL you should keep a few simple things in mind.

1. Set your budget - are you paying cash or taking out a loan to buy a used car? If you are paying cash - make sure you are not spending all your savings. In addition, know that you will need to also pay for registration and insurance of the vehicle. If you are taking out an car loan try to get pre-approved first. Why, because it simplifies the car buying process and shows the used car dealer that you are a serious buyer.

2. Choose the right for you vehicle. Think about your needs and how you plan to use the car. If you will be driving your kids to school and soccer practice you want a car with enough room for everyone and a large trunk. Also, think of all the features the used car must have. List them on a sheet of paper. That will make finding the right for you vehicle so much easier.

3. Check the vehicle history report - all you need to do is run the Vin number through Carfax. It's not free but it's well worth the money. You don't want to save $30 and buy a car that's lemon that you will then spend hundreds to have it fixed. When you choose Napleton's Volkswagen of Sanford to buy your used car under 10000 we will provide you with the CarFax report for free. This way you will know the number of owners the vehicle has had as well as if it has been properly maintained.

4. Go on a test drive - that's where the rubber meets the road, literally. To make the most of it choose a route with a little bit of everything - highway, rough pavement, hills and curves. Do not turn the car radio off. You can do this later. What you want to pay a close attention to is:

a/ if the brakes are responsive and predictable
b/ unusual noises and vibration because that could indicate worn tires or worn suspension parts
c/ if the car has enough power
d/ if there are blind spots

When you are back at the dealership check the leg room in the back of the car as well as the cargo capacity. Only now you can turn on the radio to test the sound system of the vehicle.

5. Close the deal (sign the paperwork). Just make sure you read the contract before you sign it. If there's something you don't understand - ask for explanation. If it doesn't make sense - don't sign the contract until it's corrected. Don't be afraid to walk out of the dealership if you feel like you are being taking advantage of. At Napleton's Volkswagen of Sanford we will walk you through and explain the contract in details before you sign it.
>> Before it's too Late, Check Out Our Lineup of Used Cars Under $10,000 <<
Hurry over to Napleton's Volkswagen of Sanford and check out our exclusive selection of used cars under $10K from major brands like Volkswagen, Honda, Toyota, Ford and Chevy! Find your last minute deal on the best used cars for sale in Sanford FL. With this offer ending soon, this may be your last chance to purchase a used car at this price.

This offer may not last long. So check out our used cars under $10K and find the perfect car for you. With such an unbeatable price, and so many options, shouldn't you at least take a look.
Questions? Call Us Now at (855) 743-7423 to Speak with a Used Cars Specialist in Sanford, FL